IN THE

BEATING HEART

OF

EAST AUSTIN

MODERN-INDUSTRIAL COMMERCIAL PROPERTY LOCATED IN THE CENTER OF THE EAST AUSTIN ENTERTAINMENT DISTRICT
Welcome to Centro, where all paths cross. Where work meets play, office life meets nightlife, and commerce and community co-mingle with the ease of old friends. Located just steps from food trucks, outdoor patios and live music, Centro is a mixed-use facility that blends historical inspiration with modern design; treats indoor and outdoor spaces with equal obsession; and offers tenants a fully amenitized retail and restaurant environment that always feels like home.
TWO FIVE-STORY BUILDINGS TOTALING +/- 330,000 SQFT OF CUSTOMIZABLE COMMERCIAL SPACE
▪︎  5 floors in north & south buildings
▪︎  800+ below-ground parking spaces
▪︎  Outdoor terraces & public gathering areas
▪︎  Retail passages and landscaped gardens
▪︎  On-site private gym
▪︎  Locker rooms & showers on-premises
▪︎  Bike storage
▪︎  20,000+ sq ft programmed outdoor area
▪︎  24/7 on-site security
▪︎  Electric vehicle charging stations
1  Whole Foods Market
2  Target
3  Google Inc.
4  Sysco Corp.
5  Chipotle 
6  Orange Theory Fitness
7  Snooze A.M. Eatery
8  Hopdoddy Burgers
9  Juice Land
10  Dolce Neve
11  Bueno Aries Cafe
12  East Austin Hotel
13  Prohibition Creamery
14  Hotel Vegas (venue)
15  The Brixton
16  Cisco's Restaurant
17  The White Horse
18  Ramen Tatsuya
19  Il Brutto
20  La Matta
21  Zilker Brewing Co.
22  Suerte Mexican
23  Boeing Corp.
24  Counter Cafe
25  Cuvee Coffee
26  GoDaddy Inc.
27  Arrive Austin Hotel
28  Whislers

NO PROPERTY IS BETTER SITUATED TO TAKE ADVANTAGE OF AUSTIN'S MULTI-MODAL LIFESTYLE THAN CENTRO. OUR HUB LOCATION IN EAST AUSTIN GIVES TENANTS THE FREEDOM TO GO WHERE THEY WANT — HOW THEY WANT.
The Plaza Saltillo Metro Rail station is located just outside the door, providing easy access to many of Austin's other neighborhoods.
▪︎  Downtown
▪︎  MLK Jr.
▪︎  Highland
▪︎  Crestview
▪︎  Kramer
▪︎  Howard
▪︎  Lakeline
▪︎  Leander
East Austin is easily the most walkable neighborhood in town, with options for dining, living, shopping and working all within close proximity.
▪︎  50+ Restaurants & Bars
▪︎  12+ Coffee shops
▪︎  200+ Hotel rooms
▪︎  450+ Condominium units
▪︎  3,500+ Multi-family units
For drivers, the 800+ parking spaces and our location just east of Downtown provides easy access to all of Austin's attractions.
▪︎  2 minutes to downtown
▪︎  5 minutes to the Capitol
▪︎  10 minutes to UT Campus
▪︎  15 minutes to the airport
▪︎  15 minutes to Zilker / Barton Springs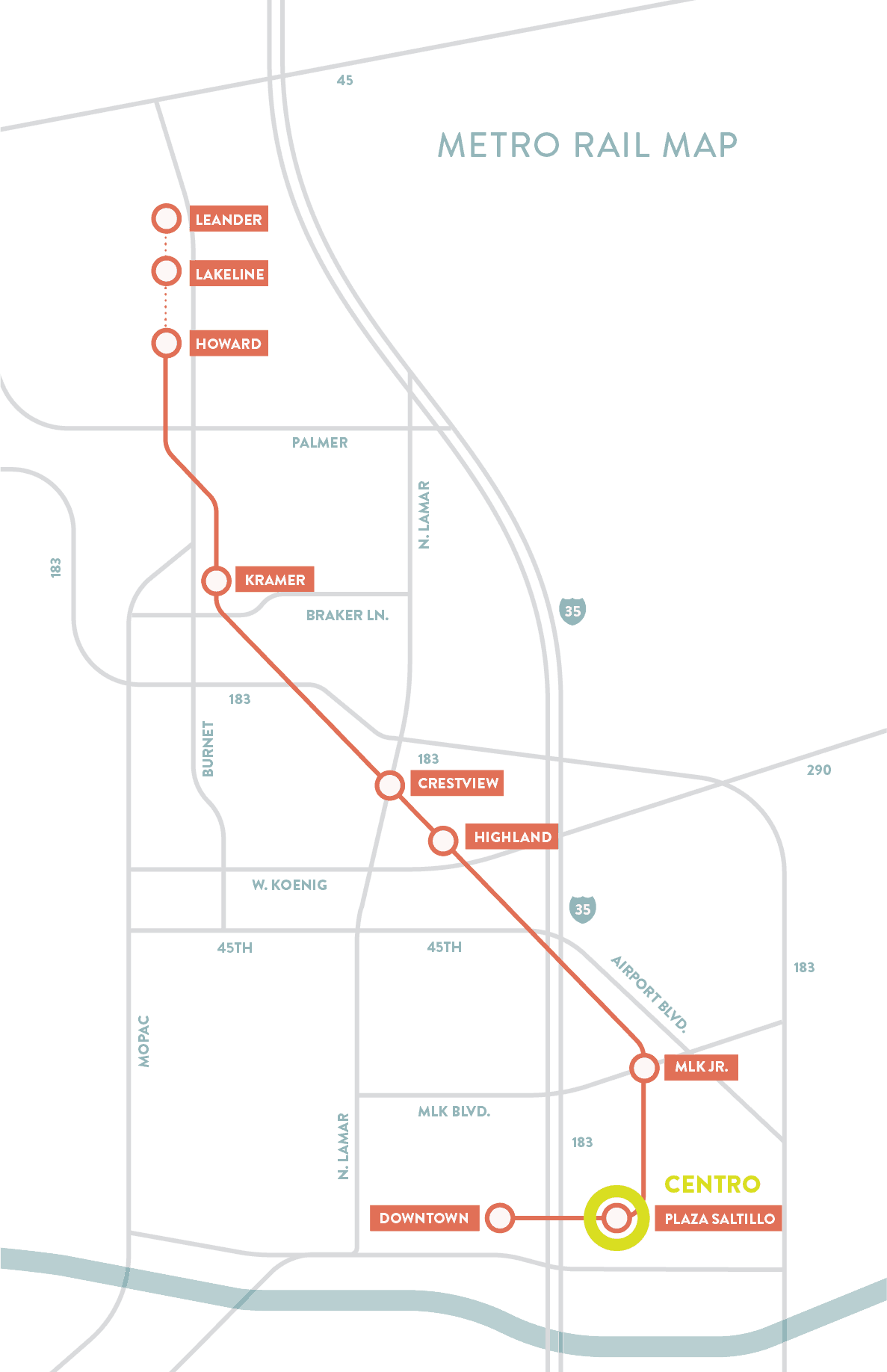 FOR LEASING INQUIRIES, INFORMATION, FLOOR PLANS AND AVAILABILITY